Note: This function is only available on the website
The cover creator allows you to create your very own cover for your story!  To access the cover creator, check out this guide.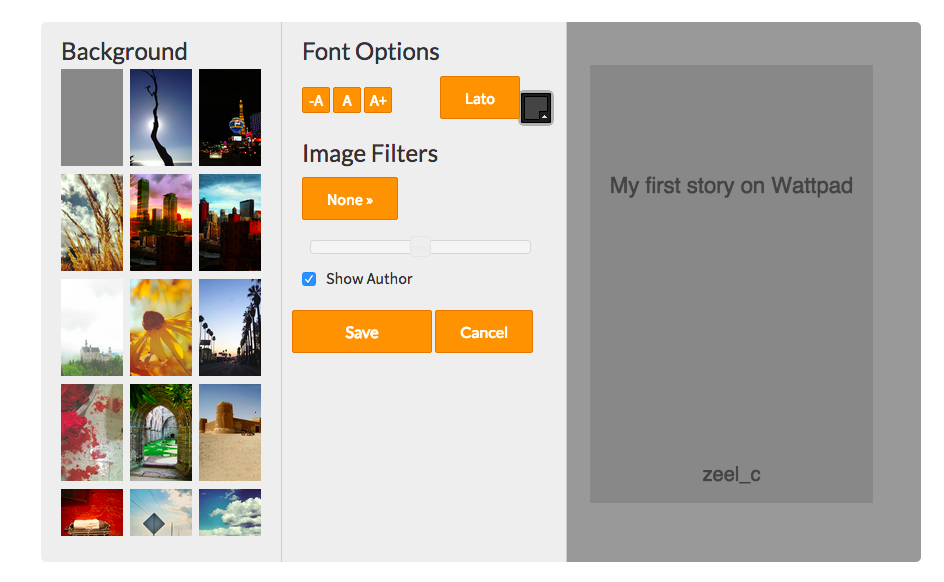 Picking a Background Image
In the right hand column there are several pictures that you can use for the background of your cover.  There are options for every genre!  You can use the image filters to change the style of the picture.  Play around with the different filters to make your background unique!
Changing the Font Size
To change the font size, click the text you would like to style, either the title or your username.  Select the | -A | A | A+ | buttons to alter the size of the font. | -A | makes the font size smaller, | A | returns the font to the original size and | A + | makes the font size larger.
Changing the Font & Font Colour 
To change the font, select a style from the first drop down menu.  The default font is Lato.
To change the colour of the font, select the square above the font menu.  You can select the colour from the right hand column.  In the middle of the pop up, you can change the shade of the colour by dragging the black circle.