As a writer, it can be hard to keep track of all your creative concepts and ideas at any given time. The Story Notes feature helps you organize all your core concepts for a story directly on Wattpad, from protagonist details, story goals, to your ultimate story ending, you can privately keep track and refer back to them as you write your story.
Please note that you can only add Story Notes when on the Wattpad website (the feature is not available on our apps) and that, at the moment, it's only available in certain languages.
On Desktop Web
Click on

Write

in the top navigation bar

Click on

My Stories

Select the story you're adding notes to by clicking the title

Click on Story Notes tab, and add your story notes

Select either

Save

or

Publish

to save your changes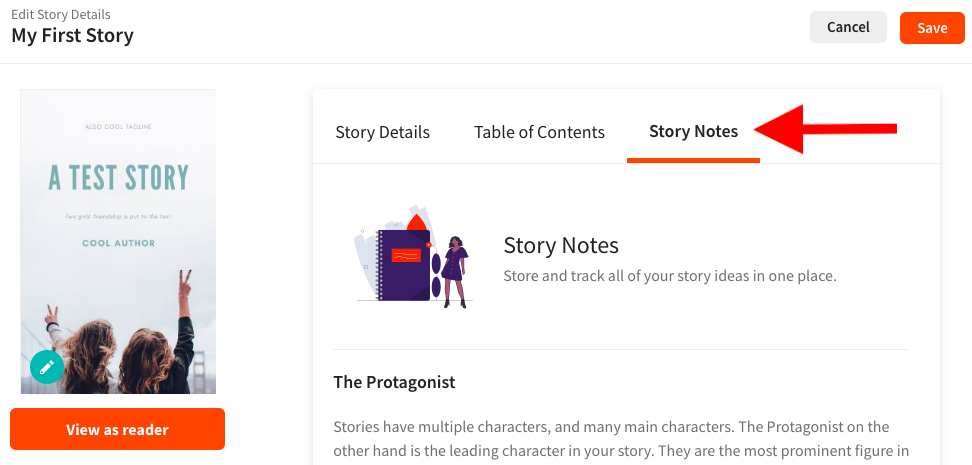 Frequently Asked Questions
Why can't I find Story Notes on the app?
Unfortunately, Story Notes is only available on desktop web. We hope to launch it on the app in the future.
I made a new story, but the Story Notes page has not loaded?
Story Notes is available once at least single story part has been drafted or published.
Can my readers see my Story Notes?
No. Your readers can't see anything in your Story Notes.
Why are there character limits on Story Notes?
We wanted to make your Story Notes a place that you can keep quick notes about the core elements of your story. We placed word limits in your Story Notes so that you would make your notes as concise as possible for quick reference when you need it.
How do I delete my Story Notes?
You can't delete your Story Notes once you've created them, unless it's a text form field. Instead, change your inputs to match what best reflects your story now. Or, if you remove your story altogether, your Story Notes will be deleted with it.
Why can I only add one protagonist?
For most stories, even if it seems like there are multiple protagonists, only one true protagonist exists. There are few exceptions to this rule. To learn more on how to determine who of your main characters is the protagonist, take a look at this article: Who is your protagonist?
For now, choose one character as your protagonist. We hope to add more than one character options in story notes sometime in the future.
Why can't I add my own attributes for my protagonist, and I must use the suggested list?
You can only select attributes in our data bank of protagonist attributes. We wanted to differentiate from Tags, where you can add anything you want. Instead, we list "main" attributes that are specific but not too specific: things like ethnicity, hair, eyes, mental or physical impairments, job type etc.
Why can't I choose my Goal Type?
Before you can select a Goal Type, you must first select what the primary goal is, which can be either Physical or Emotional. After selecting the primary goal, you will then see that the goal type dropdown is activated and you can now select from a few options.
Why can't I use the Goal Type drop-down?
The Goal Type drop-down activates only once you've answered the previous question "The goal is primarily". Once you've answered that, you should be able to then select a Goal Type.
If I've already submitted my Story Notes to Wattpad for consideration for Story Opportunities but I want to change some things, is it too late to change them?
If you submitted your story notes to Wattpad's backlog of stories for opportunities, but then change your notes anytime afterward, just resubmit your story notes to Wattpad's backlog of stories and we will automatically update your submission to include your latest changes. No need to worry or contact us.
When and how will I be contacted about Story Opportunities from Wattpad after I've submitted my story for consideration?
You will not be contacted about Story Opportunities from Wattpad after you've submitted your story for consideration. However, submitting your story for consideration does significantly increase the visibility of your story to Wattpad staff out of the millions of stories we have.